El Chaltén turned out to be my favourite place in Patagonia.
After finishing the O trek, I caught a bus from Puerto Natales to El Chaltén, where I was planning to do more hiking. My legs felt tired, but strong and I was excited about spending a few more days exploring on foot.
The border crossing from Chile to Argentina was relatively eventful, with sniffer dogs going through all of the bags on the bus (which had to be unloaded first and then loaded back, so it took forever) and the boarder guard trying to get me to go on a date with him once I'm in Argentina (he was from El Calafate).
I had a campsite pre-booked before I arrived to El Chaltén, which turned out to be a complete dump, so I decided to find something slightly more reasonable. A random girl I met in town recommended a campsite, which was very basic, but packed with rock climbers and had a good vibe, so I decided to base myself there for a few nights.
I came across a trail map of the area, which was helpful when planning my hikes. Even if it doesn't have too many details, the distances on the map along with well marked trails, makes it easy to hike in the area (although if you want more detailed information, this guide was recommended to me for hiking the O trek in Chile and El Chaltén). Oh and did I mention that unlike in Torres del Paine, no viewpoints have guards or closing times? That made the experience way more enjoyable and relaxed. However, I didn't have enough time to do everything I wanted in the area, so I picked a couple of hikes.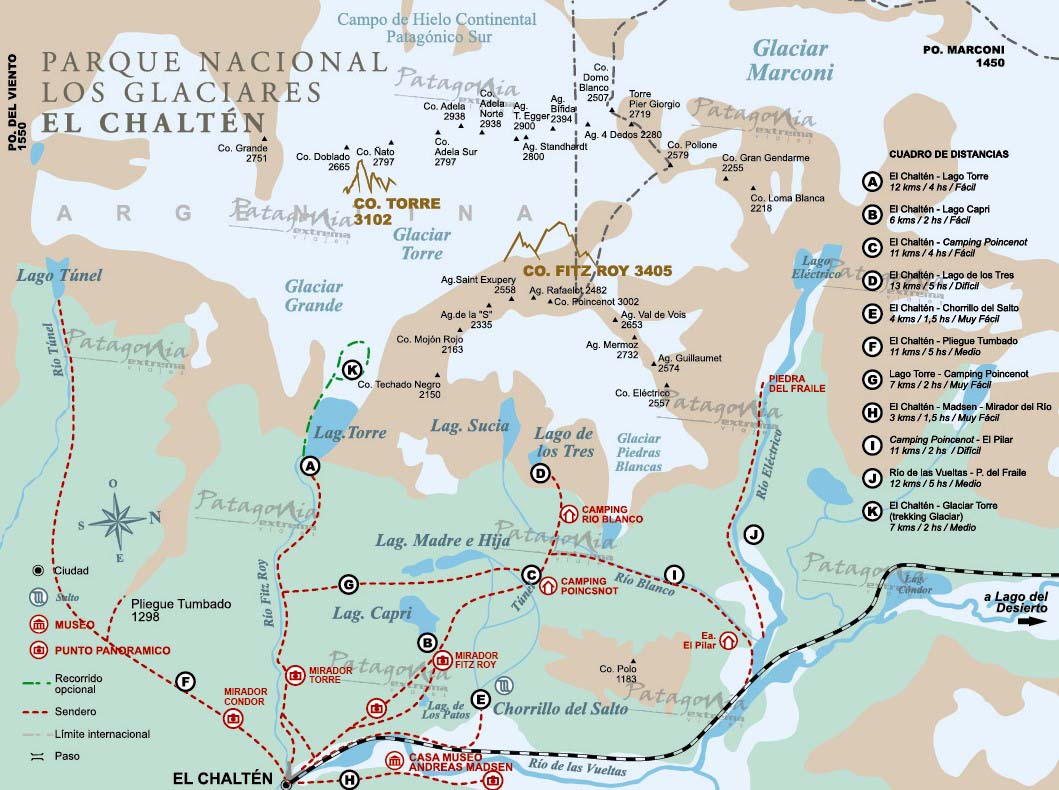 Day 1 – Hike to Lago Torre
I was still travelling with my friend Ant, whom I mentioned in my previous post, so we left El Chaltén quite early and headed towards Lago Torre (point A on the map). It was very peaceful, the path was well marked and easy to follow. It didn't take very long to get there, but the views were absolutely breathtaking. There weren't many people around, but the place felt so vast that I don't think it'd ever feel crowded even with loads of people around. It was so nice just to relax there, listening to the rumbles of parts of glacier breaking and falling, Ant even fell asleep.
Instead of heading back the same way, I decided to follow the path towards Lagos Madre e Hija. The path was heading through the woods and I enjoyed spotting different birds along the way. Eventually, it got really hot, so I was happy to arrive at the lakes and dip my toes in cold water. Snickers bar was well deserved.
After a long break, I continued along the path and the mighty peaks of Fitz Roy started appearing.
The views were magnificent, but after so much walking I felt exhausted and decided to head back to the camp. On my way back, the views of a beautiful valley opened up. The turquoise waters of Rio de las Vueltas were mesmerizing, so once I returned to El Chalten I decided to spend some time relaxing by the river.
I have to mention that the food in Argentina was a treat. Huge portions and tasty meats were a great reward after a long hike (even if not very environmentally friendly).
Day 2 – Hike to Lago de los Tres
Having gotten a glimpse of Fitz Roy, I was excited to get up early in the morning and hike up to the Lago de los Tres. I stuffed my face with porridge, while admiring a funny looking cloud hanging in the sky and decided it'd be another brilliant day.
The hike didn't disappoint. The scenery was stunning and it was relatively easy going until the last mile or so, when the steep climb started. The weather, being beautiful all morning, decided to turn and the rain clouds suddenly appeared. I thought the weather changed quickly in Scotland, but Patagonia was on an entirely different level.
The views were absolutely stunning nonetheless.
The wind picked up and it started raining heavily. I was hiding under a huge rock while having my lunch, hoping the weather would improve. It didn't happen and I was absolutely frozen, so decided to head back down.
This was definitely one of most dramatic landscapes I have ever seen. Completely wild and unpredictable, but absolutely stunning.
After I was mid way through my walk back, the weather improved, just as if nothing happened.
I spent the rest of the day relaxing in town and stuffing myself with delicious gelato and cheese pastries I bought in a local panaderia. I had a bus booked next morning to go to El Calafate, but didn't want to leave this beautiful town. I was keen to do more hiking in this stunning area and I promised myself I would be back some day. The next morning, it was raining when I woke up, that was probably the only thing that made it easier to leave El Chaltén.